King Mississippi Paddlewheel Steamboat Model from Old Modern Handicrafts
Author: CADANCE Date:11/16/2023 6:26:48 PM


Let's dive into the heart of America's literary legacy and rediscover a boat immortalized by Mark Twain – the King of Mississippi. This legendary steam-powered boat that once navigated the iconic Mississippi River is now meticulously crafted and available as a fully assembled model from Old Modern Handicrafts. Let's explore the craft and history behind the King Mississippi Paddlewheel Steamboat model.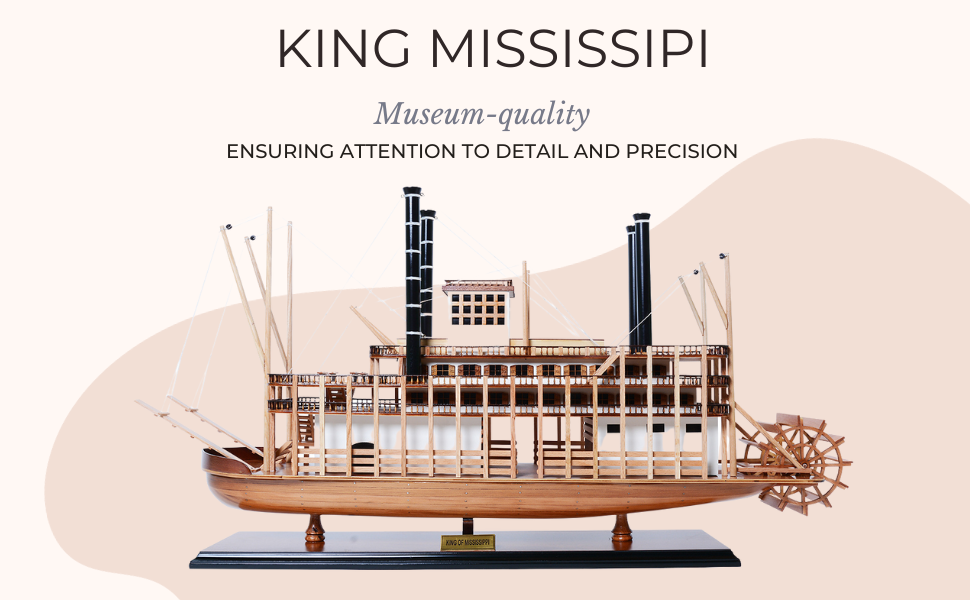 Crafted with Precision Skilled craftsmen put their heart into each model, starting from scratch. They use top-notch wood like western red cedar, rosewood, and mahogany, drawing inspiration from old photos, drawings, and original plans. The result? A detailed and realistic King of Mississippi replica. The builders use the plank-on-frame construction method, showcasing precision and artistry in shipbuilding. Each model takes hundreds of hours to ensure every tiny detail is just right. Quality is key, with rigorous checks before the model leaves the workshop.
Details That Impress The King of Mississippi model features a four-level deck with authentic details. From the wooden steam propeller to a peek inside the cabin from the first deck opening, it captures the essence of the historic vessel. Metal railings grace each floor, and four black smoke stacks stand tall on the third and fourth decks. Mounted securely on a wooden base with a brass nameplate, it's not just history; it's a work of art demanding attention. This model isn't just for show; it's a journey back when steamboats ruled the Mississippi.
A Perfect Gift Beyond decoration, the King Mississippi Paddlewheel Steamboat model makes a perfect gift for history and craftsmanship enthusiasts. Whether at home, the office, or part of a collection, it carries a luxurious charm, reflecting the regality of its namesake. For decorators, boat lovers, or collectors, it's a chance to own a piece of American history – more than a conversation starter, a statement of refined taste and love for shipbuilding.
Sailing Through History As the King Mississippi model finds its place, it echoes a bygone era, reminding us of Mark Twain's tales and the role of riverboats in shaping America. It's a tribute to exploration and adventure, inviting us to immerse in history, a tangible link to the past capturing everyone's imagination. Old Modern Handicrafts: Crafting Timeless Elegance and Nautical Wonders