The USS Constitution Elegance – Sailing Through History with Artisan Craftsmanship
Author: HANNAH Date:11/16/2023 6:27:08 PM


Commence on a journey where elegance seamlessly intertwines with maritime history through our USS Constitution Inlay Hull model ship large size, a true testament to the art of handicrafts and model ships. This fully assembled masterpiece is more than just a model; it represents a museum-quality edition of the renowned USS Constitution, affectionately known as "Old Ironsides." Crafted with precision and passion, this model brings to life the rich naval history that has shaped the course of time.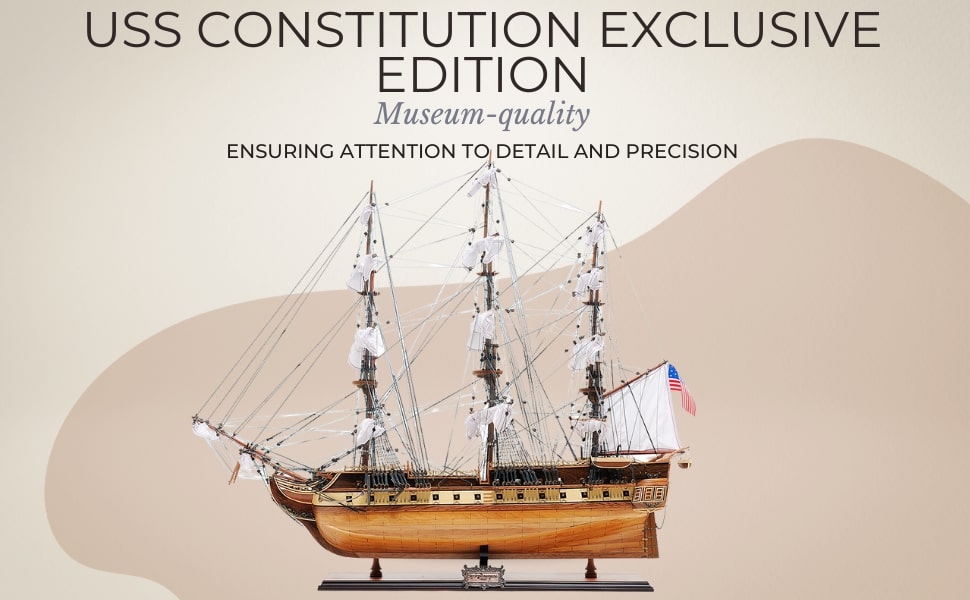 The Fully Assembled Handcrafted Masterpiece: Our USS Constitution mode ship Large size stands proudly as a museum-quality edition, belonging to an exclusive series, each bearing a unique serial number for authenticity. The hull, skillfully laser-cut, showcases the intricate artistry involved in its creation. What sets this model apart is the 100% hand-built craftsmanship using the "plank on frame" construction method, demanding over 100 hours of meticulous work from our skilled artisans. The exquisite details serve as a testament to the dedication of our master craftsmen. Eschewing plastic components, they carefully select rosewood, mahogany, teak, and other exotic woods to enhance each feature. From meticulously crafted metal anchors and cannons to an authentic crow's nest, advanced intricate rigging, rolled sails, wood inlay hull, inlay deck, to an ornate stern – every detail is a work of art. This model ship proudly graces a solid wood base, adorned with a metal nameplate, further emphasizing the touch of handicraft excellence.
Outstanding and Attractive History: The USS Constitution, a three-mast frigate, transcends being just a ship; it embodies a living piece of history. Commissioned as the world's oldest warship, its most iconic era unfolded during the War of 1812 against Britain. Triumphing over five warships, including the H.M.S. Guerriere, the Constitution earned its legendary moniker, "Old Ironsides." The astonishing resilience of its iron-like sides during battle left British seamen in awe as cannonballs bounced off its hull. Today, the Constitution stands proudly as a national landmark, majestically docked in Boston, symbolizing American naval strength. Possessing a model of this iconic ship means owning a tangible link to history – a piece that transcends time.
A Real Gift with Strong History: Infuse your living space with elegance, sophistication, and a profound touch of maritime history with our
USS Constitution Inlay Hull model ship large size
. The meticulous craftsmanship, historical significance, and exclusive design make this model a standout addition to any room. More than merely acquiring a model; this Model ship is a piece of history crafted with the art of handicrafts that will be cherished for generations to come.
In search of a gift that transcends the ordinary? Our USS Constitution model is not merely a display piece; it is a tangible replica piece of history, making it an exceptional and meaningful gift. Whether for a history enthusiast, a lover of maritime craftsmanship, or someone with an eye for elegant decor, this model is guaranteed to leave a lasting impression. Ready to own a piece of history? Don't miss out on the opportunity to make the
USS Constitution Inlay Hull model ship large size
a centerpiece in your collection.