Unveiling the Drakkar Viking Model Boat Length 40cm: A Miniature Masterpiece
Author: HANNAH Date:11/19/2023 7:56:06 PM


Step into the world of maritime history with
the Drakkar Viking Model Boat Length 40cm
, a meticulously crafted replica that captures the essence of the classic Viking boats used between the 7th and 10th centuries. This 40cm masterpiece is not just a model; it's a fully assembled work of art that brings the spirit of the Vikings into your space.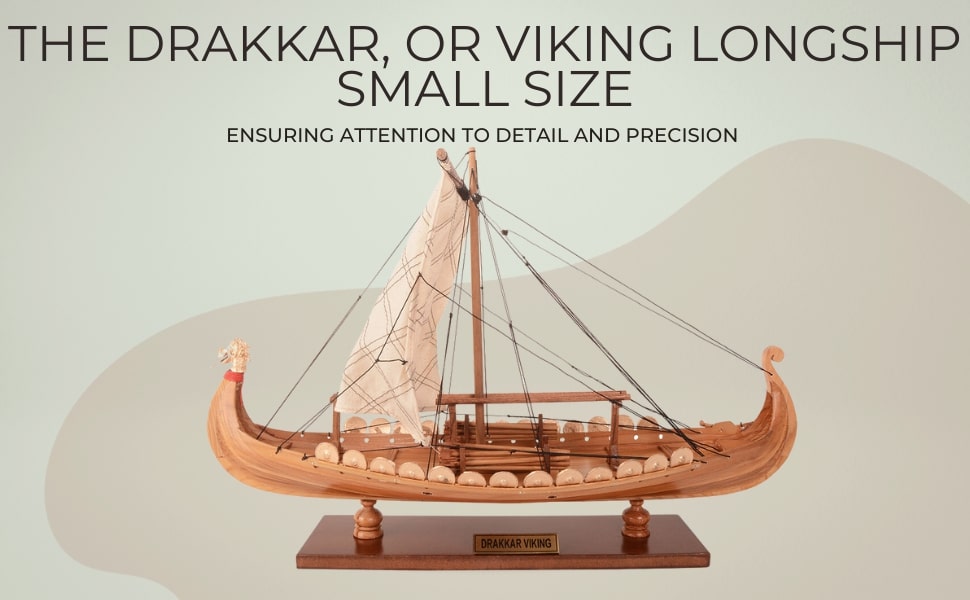 The Fully Assembled Masterpiece: The
Drakkar Viking Model Boat Length 40cm
is a stunning replica of the iconic Viking boat, meticulously designed to look and feel like a miniature version of the real thing. This fully assembled model is a testament to the craftsmanship of master artisans, ensuring that every detail is faithfully recreated. This is a boat that exudes authenticity and captures the imagination with its historical significance. Easy Elegance for Every Space: Crafted with high-quality materials, the Drakkar Viking Length 40cm seamlessly blends beauty, accuracy, and craftsmanship. Its elegant design makes it a perfect addition to any space, whether it's displayed in a home, office, or museum. This model ship compact 40cm size ensures that it can easily fit into various settings, adding a touch of sophistication to any room.
Craftsmanship Beyond Compare: This model is handcrafted with the highest quality wood from scratch, employing the "plank on frame" construction method used in real boats. The meticulous construction process takes more than 50 hours for each model, with master artisans ensuring precision at every step. The attention to detail is astounding, featuring a visible planking hull, lines of gold shields along the sides, two sets of wooden oars, a detailed stitched sail, a metal dragon head, a brass nameplate, and a sturdy stand.
Perfect for Collectors and Enthusiasts: Whether you're a maritime history enthusiast or simply appreciate beautiful and intricate works of art, the Drakkar Viking Length 40cm Model is a must-have for your collection. Its historical significance and meticulous craftsmanship make it an excellent conversation starter. This Drakkar Viking is not just a model boat; it's a piece of history that adds elegance and sophistication to any space.
Ideal Gift for History Buffs: Looking for the perfect gift for a history buff? This Drakkar Viking Length 40cm Model is an ideal choice. Its unique combination of historical accuracy and artistic beauty makes it a thoughtful and memorable gift for anyone who appreciates the rich tapestry of maritime history. Ready to own a piece of history? Don't miss out on the opportunity to make the
Drakkar Viking Model Boat Length 40cm
a centerpiece in your collection